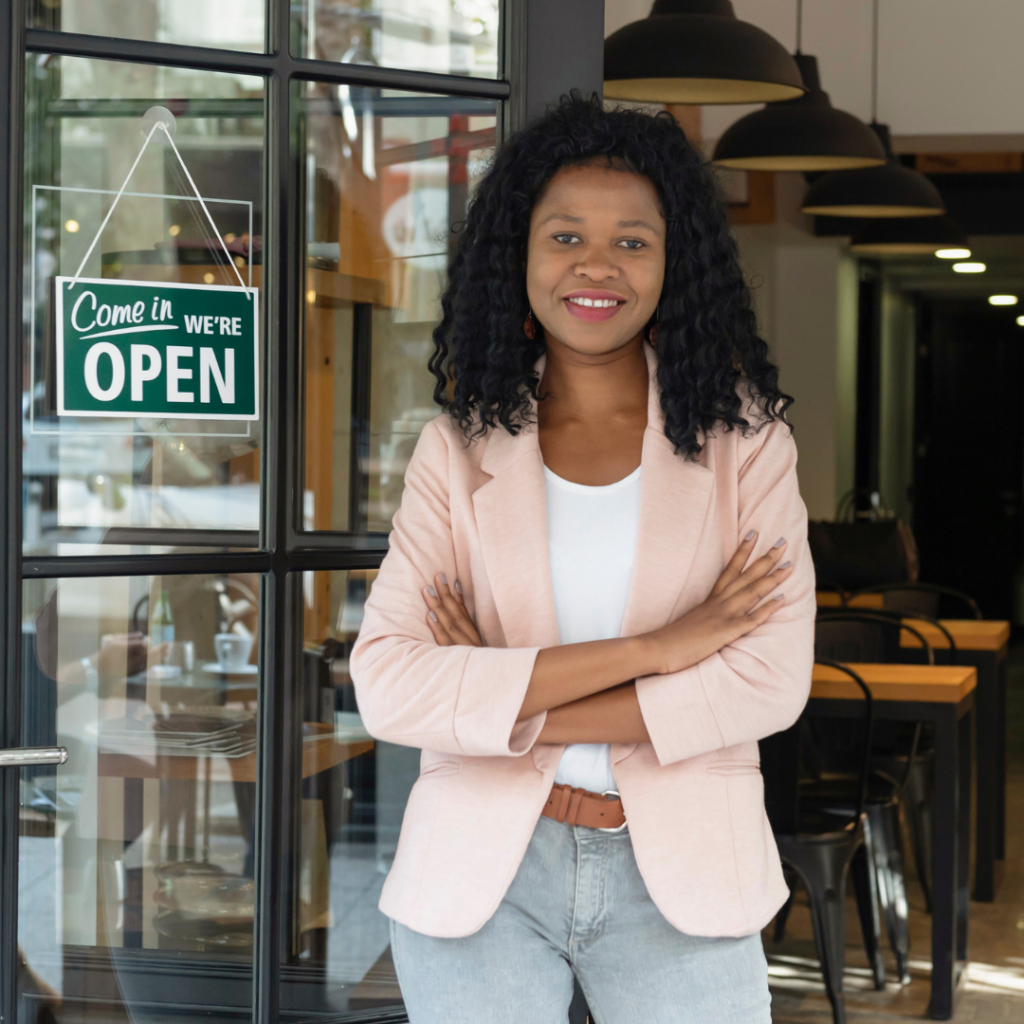 Have you ever asked yourself if you should start a business? There are some very good reasons why your answer should be yes and I'm going to share my top 5 in this post.
Owning a business allows you to steer your own professional course, set your hours, and overcome the pay gap that keeps women making just 79% of what their male counterparts earn.
Business ownership is an excellent method to create wealth. For women, especially women of color, entrepreneurship is the way to pass down a financial legacy to the people who matter most in their lives.
Growing up, I remember my parents telling me and my brothers to go to school, get a good job, and work there until we were ready to retire. That stopped being true for most people a while ago.
But the pandemic really changed that and has made starting a business much more attractive to women. The Washington Post stated in an article that 80% of the people who dropped out of the workforce since the pandemic are women.
Starting a business allows women to reenter the workforce when they're ready, in a way that supports their lifestyle needs.
Starting a small business isn't always easy, but there are advantages that make it worthwhile to do.
If you've been considering entrepreneurship, here are my top five reasons why you should do it.
Reason #1 – Answering God's Call
I remember when God placed the idea of starting a coaching business in my mind. And I couldn't get the idea out of my mind – ideas kept coming and I had so many Post-It notes that I couldn't keep track of them. So, after praying about it all, I launched Her RICH Life Coaching, my life coaching business for women of faith.
I firmly believe business is a calling from God. If you're feeling a nudge to enter entrepreneurship, that's the Holy Spirit.
Your business could very well be the way you live your calling.
Before you were even born, God placed dreams, hopes, and desires in your heart. So, if you're feeling a nudging to start a business, that's the Holy Spirit speaking to you.
Those gifts, talents, and experiences that you have, make you a one-of-a-kind masterpiece. There's no one else on the planet just like you. You were knitted together by the Master Craftsman, and He's given you a secret sauce. And your secret sauce is what's going to make your business different from anybody else's.
If God is calling you to entrepreneurship, you can begin now – where you are, with what you have.
Reason #2 – Freedom to work and live on your own terms
I believe I've shared the story of how I got a job to pay for a coaching program I wanted to take a few years ago. I had intended to stay for a couple of years, while I built my coaching business on the side.
Well, one day, the Department Head decided I needed to start writing grants because the person they hired to do that job, didn't know how. Never mind, this was never mentioned to me when I took the job. I wrote one grant and hated the experience so much, that I turned in my two-week notice.
I didn't retire from the legal field to do work I hated.
When you own your business, you get to choose the kind of work you want to do. And as a business owner, you get to run the show by setting your own hours and creating harmony between your work and life. You have the freedom to make it happen on your own terms.
Although it may take a while to figure out your perfect schedule, you're still the one in charge and can make the changes necessary to live your life the way you want.
Reason #3 – The opportunity to build something for yourself
When one of my clients started working with me, she shared that she was tired of making someone else rich. She did more than she was paid for at her job and in addition to not being fairly compensated, she got no credit for her work, and most times, not even a thank you.
One day, she got fed up and quit – her husband told her he'd support them while she built her business. As a matter of fact, he was an entrepreneur and had been in business for himself for several years.
I know it takes a lot of energy to create and build something that's all yours, knowing that this is work for yourself, instead of someone else.
There's a sense of pride that you get as a business owner because entrepreneurship has no boundaries.
No matter what your background, education, or experience level, you can succeed as a business owner with the right formula.
Reason #4 – The opportunity to leave a financial legacy
I have a business accountability partner and we meet weekly to discuss where we are in our business. She's married and has two young children.
Recently, we talked about how we can use our businesses to create a financial legacy for our loved ones. She shared with me that she really believes that each generation should make things better for future generations. For her, an important part of that is leaving a financial legacy for her kids. She wants to be able to pay for college without anyone having to take out loans. She wants to create trust funds for her children so that when they're ready to buy a home, they'll have the money to do it. She wants to be able to bring her husband home from a job that overworks him.
And she can do all of that through her business.
Leaving a legacy for the people who matter most to you is so important.
That can be challenging when you work for someone else because your income is limited to what they want to pay you. But as an entrepreneur, you have much more say in how much money you'll bring in.
So, for many women, starting a business is a great way to leave a financial legacy.
Reason #5 – To inspire other women
One of my favorite commercials during the last winter Olympic games was one that showed the first Black athlete, Vonetta Flowers, winning a gold medal as a little Black girl looks on. Next, we see that little Black girl, Elana Meyers Taylor, winning two medals at the games, while another little Black girl looks on. And I have no doubt that there will be another Black woman in a winter Olympics one day, who saw Elana Meyers Taylor, and believed that she could win Olympic medals, too.
We need to have more examples of female entrepreneurs who clearly show that entrepreneurship is an option, and you can successfully do what God's calling you to do and what you want to do.
People need to see other people doing what they want to do – that makes it seem possible. So, women need to see successful female entrepreneurs.
You never know who you'll inspire when you start your business.
When you think about changing the world, the only way to do it will often be in following your dreams.
If one of your dreams is to become an entrepreneur – if you believe that God is calling you to entrepreneurship – then starting a business would be the best course of action to make a difference in your life, your family, your community, and even the world.