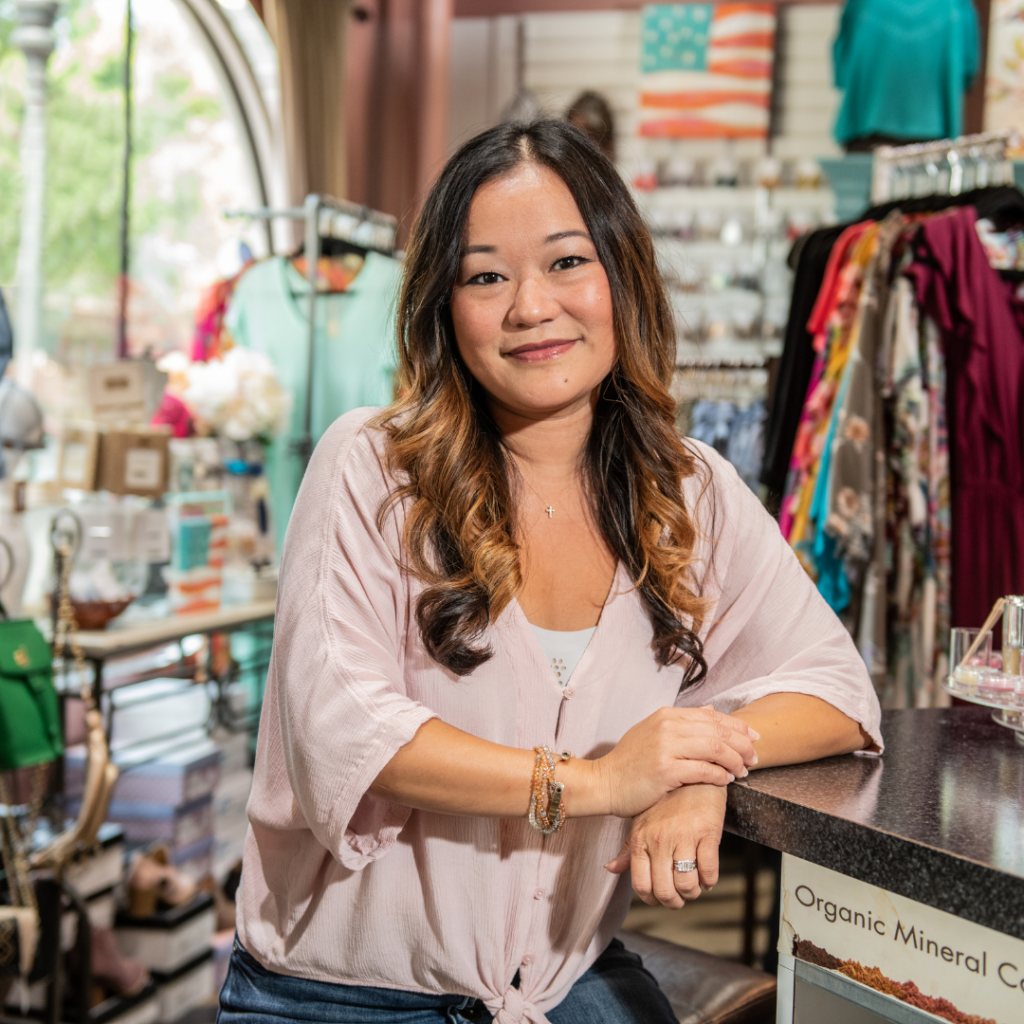 Lydia was a merchant during the first century when that was not a common thing for women. And not only that, but she was successful in her business.
She is mentioned in Acts 16:12-15 and 40.
Scripture doesn't tell us anything about her family, how much money she made, or how long she had been in business. But this is what we do know about her.
First – She was a successful businesswoman.
Like I said earlier, scripture doesn't say how much money her business brought in, but she made enough to have her own home and to pay servants.
Second – She had a luxury business.
Bible scholars tell us that the purple used in the first century was associated with people who held a high rank and had great wealth. To get the purple dye, men would have to get the shells of the murex, an ocean mollusk. This wasn't an easy job.
The murex is a kind of sea snail with shells encased in sharp spines. From their shells, you could get the purple dye. Because of the difficulty of getting the dye from the spiney shells, the dye and purple garments were expensive.
One Bible scholar said this about the process:
It took 60,000 sea snails to make one pound of dye. And the process was technically complex – catching thousands of them, removing the vein containing the dye, adding a critical amount of salt, and careful heating for as long as 10 days. It was a stinky, physically demanding process. Making purple dye was a trade secret of the Phoenicians. It was so expensive to make that purple dye was as valuable as silver.
This puts a different light on the treatment of Jesus in Mark 15:17 when the Romans put a purple robe on Him and called Him the King of the Jews.
Lydia would have been the Chanel, Dior, or Prada of her day.
Third – She owned her own home.
Acts 16:15 makes it clear that it was her household that Paul and his followers came to stay at. Scripture doesn't mention a husband, father, or brother.
It does, however, say that she invited the entire missionary party to stay at her home. That tells us that her house was large enough to accommodate Paul and his entire team.
This is another indication that she was a successful businesswoman.
Fourth – Others looked up to her as a spiritual leader.
Her home was chosen as the meeting place for new Christian converts.
Also, there were no synagogues in Philippi so the women would often meet at the river for prayer on the sabbath. Lydia met there with these women. Some Bible scholars say that she may have been the group leader.
Fifth – She was judged "faithful to the Lord" by Paul.
Commentaries often point to Lydia as the first convert in Macedonia.
Acts 16:15 tells us that Paul was convinced that Lydia's faith in Christ was real. He baptized her and accepted her invitation to stay at her home.
In a nutshell, Lydia was a strong, competent, successful businesswoman, as well as an openhearted, generous, gracious woman who loved the Lord.
There are lots of lessons we can learn from her business life and her spiritual life, as well. Here are seven:
#1 – Keep prayer in your daily activities.
Scripture says that Lydia met the Apostle Paul at a place of prayer. She also opened her home to have worship services for others.
This is a reminder to keep your priorities in order as a woman of God. Remember to pray unceasingly about everything including your business activities by making prayer a priority activity on your daily schedule.
One of the things I do for my business is have strategy sessions with God during my morning prayer time. I want to be in partnership with the Lord so that I know what He wants me to do, when to do it, and how to do it. I ask questions and anticipate that He will answer. This way, I don't try to do business on my own strength.
I believe that God calls you to business, so it only makes sense to ask Him for His guidance every step of the way.
#2 – Work to please the Lord.
Lydia took her responsibility as a Christian businesswoman to work "as unto the Lord" very seriously.
You can show Christian beliefs through your nature and personality without being pushy or unprofessional. You can do this by showing Biblical principles through your actions and decisions in your business.
I recently had a conversation with a business colleague and she shared that she was struggling with how much she should talk about God in her business. She went on to explain that she doesn't offer her services only to Christians.
I told her that first, there's no way I could coach women without talking about God – everything I teach is based on scripture.
And so, we talked about how she could bring more of her faith perspective into her business without beating people over the head with it.
I believe that you can talk about your faith in a way that isn't pushy to most people. There are always exceptions. But the fact that not letting clients who didn't know her personally, know that she was a Christian, meant that the Holy Spirit was tugging at her to do something about that.
#3 – Design a powerful company.
Lydia was a no-nonsense businesswoman who built a major company in a wealthy market.
Nothing says a woman of God has to play small in the business world.
Christian business women should be open to working in all types of industries and not shy away from the potential of going big. If you're going after big dreams use Lydia as your role model for growth.
One of the members shared in my Facebook group that one of the things she's focused on right now is marketing to the right audience. This is exactly what Lydia did. She saw a need. Filled that need. And built a successful company.
Marketing is key to having a successful business.
You can have the best product or service in the world, but if no one knows about it – especially the people who want it and need it – building your business will be a struggle.
One of the key things you can do to make sure that your product or service is something that your perfect fit client wants, is to ask them.
In other words, interview 6-10 people who you believe are your perfect fit clients and ask them questions about your product or service.
For example:
Complete this sentence: When it comes to ________________ (put your product or service in the blank), I desperately need help to ____________.
What's been your biggest challenge when it comes to _________________.
What would it feel like if you were able to __________________________.
Come up with 15-20 questions you could ask your interviewees in a 20-to-30-minute interview. Use their responses to help you develop your marketing plan, as well as what products and services you should offer.
Every time I've done this, I've learned something I never thought about and I bet you will too.
#4 – Try non-traditional opportunities.
Being a successful and wealthy merchant of purple cloth put Lydia in a non-traditional business category during her times.
Don't shy away from embracing non-traditional business opportunities. Consider working in fields where few if any women are already excelling and create new paths to success.
A few weeks ago, I read an article in Black Enterprise magazine about Lasenta Lewis-Ellis.
The title of the article caught my attention – Low-income Single Mother Becomes the Owner of a Million-dollar Construction Company.
Here are some quotes from the article:
Cola Daily reported that Lewis-Ellis once lived in low-income housing as a struggling single parent. Things have changed for the better. She recently completed constructing a home at Swinton Pointe in Columbia, South Carolina.
According to Cola Daily,  Lewis-Ellis began her journey by acquiring a degree in architecture engineering technology. Then, Lewis-Ellis worked for years renovating offices in the University of South Carolina system. The process of getting to where Lewis-Ellis wanted to be included some bumpy patches, too. Cola Daily reported that when the construction team complained that Lewis-Ellis's designs were not buildable, the eager learner returned to college and earned a construction degree. Afterward, she also earned her general contractor's license.
"When I first started my business, I didn't have the capital to take on big jobs," Lewis-Ellis told Cola Daily.
"The entrepreneur spread her wings on her own terms. In 2011, Lewis-Elllis reportedly launched LLE Construction Group L.L.C. Today, LLE Construction brings in $1.1 million to $1.4 million a year building and maintaining facilities," according to Cola Daily.
Despite it all, Lewis-Ellis has come far, while working in a male-dominated industry. She is able to reflect on the reward of building homes in the area where she once faced struggles. As a woman and leader in business, the entrepreneur is now able to give back through her career, community service, and mentorship.
Ms. Lewis-Ellis took a chance on herself and launched a business in a non-traditional field and just like Lydia, has been quite successful at it.
So, if you're thinking about starting a business, and you're not quite sure what business to start, think outside the box and take a look at some non-traditional business ideas.
#5 – Find your harmony between work and home.
Most people talk about work-life balance, but I think making harmony your goal is a whole lot less stressful and more achievable.
Being 100% balanced in your work and home just may not be possible in the season of life you're in right now. So, find ways to bring about harmony – which means bringing agreement between your home life and business life the goal.
Think about an orchestra. Each instrument can play beautiful music all by itself. But to achieve the greatest impact, the conductor helps each musician to play in harmony with the others. The result is beautiful and pleasing to the ear music.
Lydia maintained her household even while running a powerful business.
Each woman has to find a way to create the harmony she wants in keeping her home in order while running a business. It might mean downsizing or hiring help.
Use your business skills to figure out what works for you to do what you need to get done. Then make the changes.
#6 – Learn to grow your business.
Lydia's business was so successful that she had to hire employees.
Growing a business means eventually needing to hire help. That help might come in the form of part-time assistants, independent contractors, freelancers, or full-time employees.
Start in the initial business planning stages to consider how and when you will start to hire help so you can expand your business operations. This creates jobs for others, increases the economy of your area, and increases your status and influence as a business professional. A growing, successful business built on Kingdom principles, glorifies God.
In the coaching world, learning to grow your business is called scaling.
There are some entrepreneurs who have absolutely no desire to grow a million-dollar business. But there are others who want to scale to an 8-figure business or more. And there's nothing wrong with either scenario.
One thing to remember is that for women and especially women of color, having a successful business is one way of creating wealth for your family, as well as leaving a legacy for them. Like most things, your business isn't just about you.
You honor God when you accept His calling to business, you serve the people who need your help, and you create a legacy for the people in your life who matters most.
#7 – Know you can be prosperous.
Lydia shows that successful Christian women can be very prosperous. There's no reason to fear money or to shy away from earning large amounts of money in business. The important key is to keep a check on your heart, so money does not become your focus instead of God.
Lydia was a business woman in the Bible who prospered while giving all glory to God. And you can do the same thing, too.
Please don't get caught up in the misquoted, "money is the root of all evil." No, it's the love of money that is the root of all evil. That means putting money before God and everyone and everything else.
Money is an earthly tool you can use for heavenly good. It's a resource to be used like all other resources.
When God blesses you with a prosperous business, He will tell you what to do with that money. Remember, it's never all about you or me.
Lydia shows us that because even as a busy businesswoman, she made time for prayer and opened her home to others for further prayer and teaching with Paul.
I'm ending my study of Lydia's life as a businesswoman with three scriptures every woman entrepreneur should have in her arsenal.
Wealth gained hastily will dwindle, but whoever gathers little by little will increase it.
Don't despise small beginnings or even slow ones.
It is well with the man who deals generously and lends; who conducts his affairs with justice.
Seek to be a lender and not a borrower and be fair to those people who do business with you.
Whatever you do, work heartily, as for the Lord and not for men.
Remember, it's not about you.